The knowledge of Jesus Christ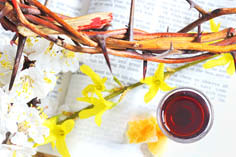 Many people know the name of Jesus and know a lot about his life. They celebrate his birth and commemorate his death. But the knowledge of the Son of God goes much deeper. Shortly before his death, Jesus prayed for his followers for this knowledge: "But it is eternal life that they recognize you, the only true God, and whom you have sent, Jesus Christ" (John 17,3).
Paul wrote the following about the knowledge of Christ: "But what I gained was what I counted for damage for Christ's sake; yes, I now also do everything for damage to the exceeding knowledge of Christ Jesus, my Lord, for whose sake I lost everything and I respect filth so I can win Christ " (Philippians 3,7–8).
For Paul, the knowledge of Christ is about the essential, everything else was unimportant, everything else he considered as filth, as waste to throw away. Is the knowledge of Christ as radically important to us as it is to Paul? How can we obtain it? How does she express herself?
This knowledge is not something that only exists in our thoughts, it involves direct participation in the life of Christ, an increasing communion with God and his son Jesus Christ through the Holy Spirit. It is becoming one with God and His Son. God does not give us this knowledge in one fell swoop, but gives it to us piece by piece. He wants us to grow in grace and knowledge. (2. Petr. 3,18).
There are three areas of experience that enable our growth: Jesus' face, God's Word, and service and suffering.
1. Growing in the face of Jesus
If we want to know something exactly, then we look at it exactly. We observe and investigate whether we can draw conclusions. If we want to get to know a person, then we look especially at the face. So it is with Jesus. In the face of Jesus one can see much of him and God! The recognition of Jesus' face is primarily a matter of our heart.
Paul writes of "enlightened eyes of the heart" (Ephesians 1,18:2) who can perceive this picture. What we look at intensely will also influence us, what we look at with devotion we are transformed into. Two biblical passages point to this: "For the God who gave light from the darkness has also made it light in our hearts for enlightenment with the knowledge of the glory of God in the face of Jesus Christ" (4,6 Corinthians).
"But we all reflect the glory of the Lord with an undisguised face and are transformed into the same image, from glory to glory, namely by the Lord's Spirit" (2 Corinthians 3,18).
It is the eyes of the heart that, through God's Spirit, give us a glimpse of Jesus' face and make us see something of the glory of God. This glory is reflected in us and transforms us into the image of the Son.
Just as we seek knowledge in the face of Christ, we are transformed into his image! "That Christ lives in your hearts through faith, so that, rooted and founded in love, you can understand with all saints what the breadth, length, height and depth are, and recognize the love of Christ, which nevertheless all Knowledge surpasses that you will be fulfilled to the fullness of God. Let us now turn to the second area of ​​experience for growth in grace and knowledge, the Word of God. What we can know and know about Christ, we have learned through his word " (Ephesians 3,17: 19).
2. God and Jesus reveal themselves through the Bible.
«The Lord communicates himself in his word. Whoever records his word accepts him. In whom his word stays, he stays. And whoever stays in his word stays in him. Today, when people are looking for knowledge or want community, it cannot be emphasized enough without the unconditional subordination to the guidelines of his word. Healthy knowledge of Christ is linked to the healthy words of the Lord. These alone bring about healthy faith. That is why Paul says to Timothy: «Hold the picture firmly (Pattern) healthy words » (2 Timothy 1:13). (Fritz Binde «The Perfection of the Body of Christ» page 53)
With God, words are not "just" words, they are alive and effective. They develop tremendous strength and are sources of life. God's Word wants to separate us from evil and purify our thoughts and our minds. This cleaning is exhausting, our carnal mind must be kept in check with heavy guns.
Let us read what Paul wrote about it: "Because the weapons of our knighthood are not carnal, but powerful by God to destroy fortresses, so that we can reason Destroying (fallacies) and capturing every height that rises against God's knowledge and capturing every thought for obedience to Christ, are also ready to avenge any disobedience once your obedience has become complete (2 Corinthians 10,4: 6).
This obedience, which Paul addresses here, is an important part of the cleansing. Purification and knowledge go hand in hand. We can only recognize defilement in the light of Jesus' face and we have to get rid of it: "If God's spirit shows us a deficiency or something that does not agree with God, then we are called to action! Obedience is required. God wants this knowledge is realized in a godly change. Without real change, everything remains theory, true knowledge of Christ does not mature, it withers away " (2 Corinthians 7,1).
3. Growing through service and suffering
Only when we look upon and experience Jesus' ministry to us and his suffering does human meaning and service to others have meaning. Serving and suffering are excellent sources for recognizing Christ, the Son of God. Serving is a passing on of the received gifts. That is how Jesus serves, he passes on what he received from the Father. In this way, we should also see our ministry in the church. The ministry that Jesus does is the pattern for all of us.
"And he gave some to apostles, some to prophets, some to evangelists, some to shepherds and teachers to equip the saints for the work of service, for the edification of the body of Christ, until we are all united in faith and knowledge of the Son of God " (Ephesians 4,11).
We are straightened by mutual service to the right place and position in the body of Jesus. But he as head, distracts everything. The head employs the various gifts in the church to bring unity and understanding. The realization of the Son of God not only involves personal growth but is also growth in the group. The tasks in the group are manifold, and in the service of others there is another aspect that leads to growth in the knowledge of Christ. Where served is also suffering.
"Such mutual service brings suffering, both personally and with others and for others. Those who want to avoid this triple suffering will undoubtedly suffer growth losses. We have to experience suffering personally because we have to lose our own complacent life in being crucified, died and buried with Christ. As the Risen One grows within us, this self-denial becomes a fact » (Fritz Binde "The Perfection of the Body of Christ" page 63).
Summary
"But I want you to know what great struggle I have for you and for those in Laodicea and for all who have not seen me in the flesh so that their hearts are admonished, united in love and enriched with complete certainty, to the knowledge of the mystery of God, which is Christ, in which all treasures of wisdom and knowledge are hidden " (Colossians 2,1: 3).
by Hannes Zaugg