What is the message of Jesus Christ?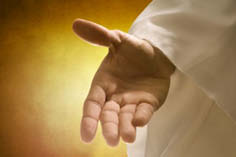 The gospel is the good news about redemption through God's grace based on faith in Jesus Christ. The message is that Christ died for our sins, that he was buried, resurrected on the third day after Scripture, and then appeared to his disciples. The gospel is the good news that we can enter the kingdom of God through the salvation work of Jesus Christ (1 Corinthians 15,1: 5-5,31; Acts 24,46:48; Luke 3,16: 28,19-20; John 1,14:15; Matthew 8,12: 28,30-31; Mark; Acts;-).
What is the message of Jesus Christ?
Jesus said that the words he spoke are words of life (John 6,63). "His teaching" came from God the Father (John 3,34; 7,16; 14,10), and it was his wish that his words live in the believer.
John, who survived the other apostles, had the following to say about Jesus' teaching: "He who goes beyond and does not remain in the teaching of Christ does not have God; whoever remains in this teaching has the father and the son » (2 John 9).
"But what do you call me Lord, Lord, and don't do what I tell you," said Jesus (Luke 6,46). How can a Christian claim to surrender to Christ's rule while ignoring his words? For the Christian, obedience is directed towards our Lord Jesus Christ and his gospel (2 Corinthians 10,5: 2; 1,8 Thessalonians).
The Sermon on the Mount
In the Sermon on the Mount (Matthew 5,1 7,29; Luke 6,20 49) Christ begins by explaining spiritual attitudes that his followers should readily adopt. The spiritually poor who are touched by the misery of others to such an extent that they mourn; the meek who hunger and thirst for justice, the merciful who are pure in heart, the peacemakers who are persecuted for the sake of justice - such people are spiritually rich and blessed, they are the "salt of the earth" and they glorify the Father in heaven (Matthew 5,1: 16).
Jesus then compares All Testament instructions (what is said to the old) with what he says to those who believe in him ("But I tell you"). Note the comparative expressions in Matthew 5,21: 22-27, 28-31, 32-38, 39-43, and 44.
He introduces this comparison by saying that he did not come to break the law, but to fulfill it (Matthew 5,17). As discussed in Bible Study 3, Matthew uses the word "fulfill" in a prophetic manner, not in the sense of "holding" or "observing." If Jesus had not fulfilled every little letter and every dot of the messianic promises, then he would be a fraud. Everything that was written in the law, the prophets, and the scriptures [Psalms] regarding the Messiah had to find prophetic fulfillment in Christ (Luke 24,44).
For us, Jesus' statements are imperative. In Matthew 5,19 he speaks of "these commandments" - "these" related to what he was about to teach, as opposed to "those" which related to commandments set out before.
His concern is the center of the Christian's faith and obedience. Using comparisons, Jesus commands his followers to obey his speeches instead of appending aspects of the Mosaic Law that are either inadequate (Moses' teaching about murder, adultery, or divorce in Matthew 5,21: 32), or irrelevant (Moses' teaching on swearing in Matthew 5,33: 37), or against his moral point of view (Moses' teaching on justice and behavior towards enemies in Matthew 5,38: 48).
In Matthew 6 our Lord drives, "who shapes the form, the content and ultimately the goal of our faith" (Jinkins 2001: 98) continued to distinguish Christianity from religiousness.
Real compassion [charity] does not show off its good deeds for praise, but serves selflessly (Matthew 6,1: 4). Prayer and fasting are not modeled in public portrayals of piety, but through a humble and divine attitude (Matthew 6,5: 18). What we desire or acquire is neither the point nor the concern of just life. What is important is to seek the righteousness that Christ began to describe in the previous chapter (Matthew 6,19: 34).
The sermon emphatically ends in Matthew 7. Christians should not judge others by judging them because they are sinners (Matthew 7,1: 6). God our Father wants to bless us with good gifts and the intention behind his speeches to the old in law and the prophets is that we should treat others as we would like to be treated (Matthew 7,7: 12).
The life of the kingdom of God is to do the will of the father (Matthew 7,13: 23), which means that we listen to and do the words of Christ (Matthew 7,24:17,5;).
Basing your belief on something other than your speeches is like building a house on sand that will collapse when the storm comes. Faith based on the speeches of Christ is like a house built on a rock, on a firm foundation that can stand the trials of time (Matthew 7,24: 27).
This teaching was shocking for the audience (Matthew 7,28: 29) because the Old Testament law was seen as the foundation on which the Pharisees had built their righteousness. Christ says that his followers should go further and build their faith on Him alone (Matthew 5,20). Christ, not the law, is the rock that Moses sang about (Deuteronomy 5; Psalm 32,4; 18,2 Corinthians 1). «For the law was given by Moses; grace and truth became through Jesus Christ » (John 1,17).
You have to be born again
Instead of magnifying the law of Moses, what of the rabbis (Jewish religious teachers) was expected, Jesus taught something different as the Son of God. He challenged the audience's imagination and the authority of their teachers.
He went so far as to announce: "You are looking in the Scriptures because you think you have eternal life in them; and it is she who testifies of me; but you don't want to come to me that you have life » (John 5,39: 40). The correct interpretation of the Old and New Testaments does not bring eternal life, although they are inspired so that we can understand salvation and express our faith (as discussed in Study 1). We have to come to Jesus to receive eternal life.
There is no other source of salvation. Jesus is "the way, and the truth and life" (John 14,6). There is no route to the father except through the son. Salvation has to do with the fact that we come to the person known as Jesus Christ.
How do we get to Jesus? In John 3, Nicodemus came to Jesus at night to learn more about his teaching. Nicodemus was startled when Jesus said to him: "You have to be born again" (John 3,7). "How is that possible?" asked Nicodemus, "can our mother give birth to us again?"
Jesus spoke of a spiritual transformation, a rebirth of supernatural proportions, born from "above", which is a complementary translation of the Greek word "again" in this section. «Because God loved the world that he gave his only begotten son, so that all who believe in him are not lost, but have eternal life» (John 3,16). Jesus continued with the words: "He who hears my word and believes in him who sent me has eternal life" (John 5,24).
It is a fact of belief. John the Baptist said that the person who believes in the son has eternal life (John 3,36). Faith in Christ is the starting point "not to be reborn from transient but imperishable seeds (1 Peter 1,23), the beginning of salvation.
To believe in Christ means to assume that Jesus is "the Christ, the Son of the living God" (Matthew 16,16:9,18; Luke 20: 8,37; Acts), who "has words of eternal life" (John 6,68: 69).
To believe in Christ is to assume that Jesus is God, who
Flesh became and lived among us (John 1,14).
was crucified for us that "by God's grace he should taste death for all" (Hebrews 2,9).
«Has died for all, so that those who live there will no longer live themselves, but rather those who died and rose for them» (2 Corinthians 5,15).
«Sin has died once and for all» (Romans 6,10) and "in which we have redemption, namely the forgiveness of sins" (Colossians 1,14).
«Died and came back to life that he was master of the dead and the living» (Romans 14,9).
"Who is on the right hand of God, ascended to heaven, and he subordinates the angels and the mighty and powerful" (1 Peter 3,22).
Was "taken up to heaven" and "will come again" as he "went up to heaven" (Acts 1,11).
«Will judge the living and the dead in his appearance and kingdom» (2 Timothy 4,1).
«Will return to earth to receive the believers" (John 14,1 4).
By accepting Jesus Christ in faith as He revealed Himself, we are "born again".
Repent and be baptized
John the Baptist announced: "Do penance and believe in the gospel" (Mark 1,15)! Jesus taught that he, the Son of God and the Son of Man, "has authority to forgive sins on earth" (Mark 2,10:9,6; Matthew). That was the gospel that God had sent his son for the salvation of the world.
Repentance [repentance] was included in this message about salvation: "I have come to call sinners and not the righteous" (Matthew 9,13). Paul clears up any confusion: "There is nobody who is just, not even one" (Romans 3,10). We are all sinners whom Christ calls for repentance.
Repentance is a call to return to God. Biblically speaking, humankind is in a state of alienation from God. Like the Son in the story of the prodigal son in Luke 15, men and women have moved away from God. Likewise, as illustrated in this story, the Father is anxious for us to return to Him. To leave the Father - that is the beginning of sin. The issues of sin and Christian accountability will be dealt with in a future Bible study.
The only way back to the father is through the son. Jesus said: «Everything has been given to me by my father; and nobody knows the son but only the father; and nobody knows the father as only the son and to whom the son wants to reveal » (Matthew 11,28). The beginning of repentance is therefore that we turn away from other recognized paths to salvation and turn to Jesus.
The recognition of Jesus as Savior, Lord and Coming King is attested by the baptism ceremony. Christ instructs us that His disciples should be baptized "in the name of the Father and the Son and the Holy Spirit". Baptism is an external expression of an inner obligation to follow Jesus.
In Matthew 28,20, Jesus continued: "... teach them to keep everything I have commanded you. And behold, I am with you every day until the end of the world ». In most of the New Testament examples, teaching followed baptism. Note that Jesus clearly stated that He left commandments for us, as explained in the Sermon on the Mount.
Repentance continues in the believer's life as he or she approaches Christ more and more. And as Christ says, he will always be with us. But how? How can Jesus be with us and how can meaningful remorse happen? These questions will be dealt with in the next study.
conclusion
Jesus explained that his words are words of life and they influence the believer by informing him or her about the path to salvation.
by James Henderson