Relationships: Model of Christ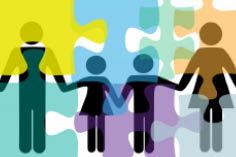 "For I died by law to live the law. I have been crucified with Christ. I live, but now not me, but Christ lives in me. Because what I now live in the flesh, I live in faith in the Son of God, who loved me and gave himself up for me » (Galatians 2,19: 20).
There were serious spiritual problems in the Corinth community. She was a church blessed with gifts, but her understanding of the gospel had been damaged. Obviously there was "bad blood" between the Corinthians and Paul. Some questioned the apostle's message and authority. There were also demarcations between siblings belonging to different social classes. The way in which they "celebrated" the Lord's Supper was exclusive. The rich were given preferential treatment, while others were excluded from participation. Partisanship was practiced that did not follow Jesus' example and violated the spirit of the gospel.
Although Jesus Christ is certainly at the center of the celebration of the Lord's Supper, we cannot ignore the importance God attaches to the unity of the body of believers. If we are one in Jesus, we should also be one with each other. When Paul spoke of the true recognition of the body of the Lord (1 Corinthians 11,29), he also had this aspect in mind. The Bible is about relationships. Knowing the Lord is not just an intellectual exercise. Our daily path with Christ should be sincere, intense, and real. We can always rely on Jesus. We are important to him. Our laughter, our worries, he sees it all. When God's love touches our lives and we taste His indescribable heavenly grace, our thinking and acting can change. We want to be the holy people our Savior imagined. Yes, we are struggling with our personal sins. But in Christ we have been declared righteous. Through our oneness and our participation in him we are reconciled to God. In it we were sanctified and justified, and the barrier that alienated us from God was removed. If we sin after the flesh, God is always ready to forgive. Since we are reconciled with our creator, we also want to be reconciled with each other.
Some of us are likely to deal with disagreements that have accumulated between partners, children, relatives, friends or neighbors. Sometimes this is a difficult step. Stubborn pride can block our way. It requires humility. Jesus likes to see his people strive for harmony whenever possible. When Jesus returns, an event addressed at the sacrament, we will be one with him. Nothing will separate us from his love, and we will be safe in his caring care for all eternity. We want to reach the wounded in this world and do our part to make the kingdom of God visible in all walks of life today. God for us, with us and through us.
by Santiago Lange
---

Relations according to the example of Christ