In the right place at the right time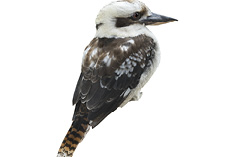 At a customer acquisition meeting in one of our stores, an employee told me about her strategy: "You have to be in the right place at the right time". I thought that this was certainly a good strategy. However, the whole thing is easier said than done. I have been in the right place at the right time a few times - for example when I went for a walk on the beach in Australia and came across a group of people who had just spotted whales. Only a few days earlier I had seen a rare bird, the laughing Hans. Wouldn't you love to always be in the right place at the right time? Sometimes it happens by chance, other times it is an answer to prayer. It is something that we can neither plan nor control.
If we are in the right place at the right time, some people attribute it to a star constellation and others simply call it luck. Believers like to call such a situation "God's intervention in our lives" because they believe that God was involved in this situation. Intervention from God can be any situation that appears to have brought God together, either for people or for good. "But we know that those who love God serve all things for the best, those who are called after his decision" (Romans 8,28). This very well-known and sometimes misunderstood verse does not necessarily mean that everything that happens in our lives is led and controlled by God. However, he encourages us to look for the best even in difficult times and tragic circumstances.
When Jesus died on the cross, his followers also wondered how this horror experience should produce something good. Some of his disciples returned to their old lives and worked as fishermen because they had resigned to the conclusion that death on the cross meant the end of Jesus and his mission. During those three days between death on the cross and the resurrection, all hope seemed lost. But as the disciples later learned and we know it today, nothing was lost with the cross, but much more won everything. Death on the cross was not the end for Jesus, but only the beginning. Of course, God planned from the beginning that something good should come out of this seemingly impossible situation. It was more than coincidence or the intervention of God, but it was God's plan from the beginning. The whole of human history led to this turning point. He is the central point in God's great plan of love and salvation.
Jesus was in the right place at the right time and therefore we are always right where we are right now. We are exactly where God wants us. In and through Him we are surely embedded in Father, Son and Holy Spirit. Loved and delivered by the same power Jesus raised from the dead. We do not have to worry about whether our life is worth anything and makes a difference on earth. No matter how hopeless the living conditions around us seem to be, we can be sure that everything will be put together for the best, because God loves us.
Just as the women and disciples desperately gave up hope during these three dark days, sometimes we too despair over our own lives or the lives of others because there seems to be no hope in sight. But God will dry every single tear and give us the good ending we long for. All this happens only because Jesus was in the right place at the right time.
by Tammy Tkach