God's grace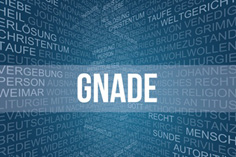 God's grace is the undeserved favor that God is willing to bestow on all of His creation. In the broadest sense, God's grace is expressed in every act of divine self-revelation. Thanks to grace, man and the whole cosmos have been saved from sin and death by Jesus Christ, and thanks to grace man has the power to reach God and Jesus Christ (he) know and love and enter into the joy of eternal salvation in the kingdom of God. (Colossians 1,20; 1 John 2,1-2; Romans 8,19-21; 3,24; 5,2.15-17.21; John 1,12; Ephesians 2,8-9; Titus 3,7)
Grace
"For if righteousness comes through the law, Christ died in vain," wrote Paul in Galatians 2,21. The only alternative, he says in the same verse, is "the grace of God." We are saved by grace, not by keeping the law.
These are alternatives that cannot be combined. We are not saved by grace plus works, but only by grace. Paul makes it clear that we have to choose one or the other. Choosing both is not an option (Romans 11,6). "Because if the inheritance were acquired by law, it would not be given by promise; But God gave it to Abraham by promise (Galatians 3,18). Salvation does not depend on the law, but on God's grace.
"Because only if there was a law that could bring life, would justice really come from the law" (V.21). If there was any way to get eternal life by keeping the commandments, God would have saved us through the law. But that was not possible. The law cannot save anyone.
God wants us to behave well. He wants us to love others and thereby fulfill the law. But he doesn't want us to think that our works are ever a reason for our salvation. His provision of grace implies that he has always known that we would never be "good enough" despite our best efforts. If our works contribute to salvation, then we would have something to boast about. But God designed His plan of salvation so that we cannot claim merit for our salvation (Ephesians 2,8: 9). We can never claim to earn anything. We can never say that God owes us anything.
This touches the core of the Christian faith and makes Christianity unique. Other religions claim that people can be good enough if they try hard enough. Christianity says we just can not be good enough. We need grace.
On our own, we will never be good enough, so other religions will never be good enough. The only way to be saved is by God's grace. We can never deserve to live forever, so the only way we can get eternal life is by God giving us something we do not deserve. That's what Paul wants out when he uses the word grace. Salvation is a gift from God, something we could never earn - not even by keeping the commandments for millennia.
Jesus and grace
"For the law is given through Moses," writes John, and continues: "Grace and truth came through Jesus Christ." (John 1,17). John saw a contrast between law and grace, between what we do and what we are given.
Yet Jesus did not use the word grace. But his whole life was an example of grace and his parables illustrate grace. He sometimes used the word mercy to describe what God gives us. "Blessed are the merciful," he said, "for they will have mercy" (Matthew 5,7). With this statement, he indicated that we all need mercy. And he mentioned that we should be like God in this regard. If we value grace, we will also show mercy to other people.
Later, when Jesus was asked why he dealt with notorious sinners, he said to the people: "But go and learn what that means: I like mercy and not sacrifice" (Matthew 9,13:6,6, a quote from Hosea). God is more concerned with showing mercy than being perfectionists in keeping the commandments.
We do not want people to sin. But since transgressions are inevitable, mercy is absolutely necessary. This applies to our relationships with each other and our relationship with God. God wants us to recognize our need for mercy, as well as to show mercy to other people. Jesus set an example of this when he ate with tax collectors and talked with sinners - by his behavior he showed that God wants to commune with us all. He has taken on all our sins and forgive us to have this fellowship.
Jesus told a parable of two debtors, one who owed an enormous amount and the other who owed a much smaller amount. The master forgave the servant who owed him much, but this servant failed to forgive the fellow servant who owed him less. The master was angry and said: "Shouldn't you have pity on your fellow servant as I have pity on you?" (Matthew 18,33).
The lesson of this parable: Each of us should see ourselves as the first servant to whom a huge sum has been forgiven. We all did not meet the requirements of the law by a long way, so God shows mercy to us - and he wants us to show mercy as well. Of course, both in the area of ​​mercy and in the law, our actions fall short of expectations, so we must continue to trust in God's mercy.
The parable of the good Samaritan ends with a call to mercy (Luke 10,37). The tax collector who was begging for mercy was the one who was justified before God (Luke 18,13: 14). The prodigal son who wasted his fortune and then came home was accepted without doing anything to "earn" it (Luke 15,20). Neither Nain's widow nor her son did anything to deserve resurrection; Jesus just did it out of compassion (Luke 7,11: 15).
The grace of our Lord Jesus Christ
The miracles of Jesus served to quench temporary needs. The people who ate loaves of bread and fish became hungry again. The son who was raised eventually died. But the grace of Jesus Christ will be given to all of us through the highest act of divine grace: His sacrificial death on the cross. In this way, Jesus himself gave himself for us - with eternal, rather than merely temporary consequences.
As Peter said: "Rather, we believe to be saved by the grace of the Lord Jesus." (Acts 15,11). The gospel is a message of God's grace (Acts 14,3; 20,24. 32). We will be by grace "through the redemption that has come through Jesus Christ" (Romans 3,24) justified. God's grace is associated with the sacrifice of Jesus on the cross. Jesus died for us, for our sins, and we are saved because of what he did on the cross (V.25). We have redemption through his blood (Ephesians 1,7).
But God's grace goes beyond forgiveness. Luke tells us that God's grace was with the disciples when they preached the gospel (Acts 4,33). God showed them favor by giving them help that they did not deserve. But don't human fathers do the same? We not only give our children when they have done nothing to deserve it, we also give them gifts that they could not deserve. It is part of love and it reflects the nature of God. Grace is generosity.
When the parishioners in Antioch sent Paul and Barnabas on a missionary trip, they ordered them to the grace of God (Acts 14,26:15,40;). In other words, they ordered them to care for God, trusting that God would take care of the travelers and that He would give them what they needed. That is part of his grace.
Spiritual gifts are also a work of grace. "We have different gifts," writes Paul, "according to the grace given to us" (Romans 12,6). «But each of us is given grace according to the gift of Christ» (Ephesians 4,7). "And serve one another, each with the gift that he has received, as the good stewards of the various graces of God" (1 Peter 4,10).
Paul thanked God for the spiritual gifts with which he had richly endowed the believers (1 Corinthians 1,4: 5). He was confident that God's grace would be abundant among them and enabled them to increase even more in any good work (2 Corinthians 9,8).
Every good gift is a gift from God, a result of grace instead of something we deserve. Therefore we should be grateful for the simplest blessings, for the singing of the birds, the scent of the flowers and the laughter of children. Even life is a luxury in itself, not a necessity.
Paul's own ministry was given to him by grace (Romans 1,5; 15,15; 1 Corinthians 3,10; Galatians 2,9; Ephesians 3,7). Everything he did he wanted to do according to God's grace (2 Corinthians 1,12). His strength and abilities were a gift of grace (2 Corinthians 12,9). If God could save and use the worst of all sinners (this is how Paul described himself), he can certainly forgive each of us and use us. Nothing can separate us from his love, his desire to give us presents.
Our answer to grace
How should we respond to God's grace? With grace, of course. We should be merciful, just like God is full of mercy (Luke 6,36). We should forgive others, just as we have been forgiven. We should serve others just as we have been served. We should be kind to others by showing them goodwill and kindness.
Our words should be full of grace (Colossians 4,6). We should be kind and gracious, forgiving and forgiving in marriage, in business, at work, in the church, towards friends, family and strangers.
Paul also described financial generosity as a work of grace: «But we make known to you, dear brothers, the grace of God that is given in the communities of Macedonia. Because their joy was exuberant when they were tried through a lot of affliction, and although they are very poor, they have given plenty in all simplicity. Because according to my strength, I testify, and they even gave willingly about their strength » (2 Corinthians 8,1: 3). They had received a lot and were subsequently ready to give a lot.
Giving is an act of grace (V. 6) and generosity - whether in terms of finances, time, respect or otherwise - and it is an appropriate way for us to respond to the grace of Jesus Christ who gave himself to us so that we could be plentiful may be blessed (V.9).
by Joseph Tkach
---

God's grace