The appreciation of our baptism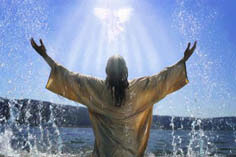 We see spellbound how the magician, wrapped in chains and secured with padlocks, is lowered into a large water tank. Then the top is closed and the magician's assistant stands on top of it and wraps around the tank with a cloth that lifts her over her head. After a few moments, the cloth falls and to our surprise and joy is now the wizard on the tank and his assistant, secured by chains, is inside. This sudden and mysterious "exchange" happens right in front of our eyes. We know that it is an illusion. But how the seemingly impossible was accomplished has not been revealed, so that this miracle of "magic" can be repeated to the surprise and joy of another audience.
Some Christians see baptism as if it were an act of magic; you go under water for a moment, the sins are washed away and the person emerges out of the water like a newborn. But the biblical truth about baptism is much more exciting. It is not the act of baptism itself that accomplishes salvation; Jesus does that as our representative and substitute. Almost 2000 years ago, he saved us through his life, death, resurrection and ascension.
It is not in the act of baptism to exchange our moral depravity and sinfulness with Jesus' righteousness. Jesus does not always take away the sins of humanity when a person is baptized. He did this once for all, through his own baptism, his life, his death, his resurrection, and ascension. The glorious truth is this: through our baptism we participate in the Spirit of the baptism of Jesus! We were baptized because Jesus, as our representative and representative, was baptized for us. Our baptism is a reflection and reference to his baptism. We place our trust in Jesus' baptism, not in our own.
It is important to realize that our salvation does not depend on us. It is as the apostle Paul wrote. It's about Jesus, who he is and what he did for us (And will continue to do so): «You owe everything you are to fellowship with Jesus Christ. It is God's wisdom for us. Through him we have found recognition before God, through him we can live a life that pleases God, and through him we are also freed from our guilt and sin. So now what Scripture says applies: If someone wants to be proud, he should be proud of what God has done for him! » (1 Corinthians 1,30: 31 hope for all).
When I think about it in Holy Week, thoughts touch me to celebrate my baptism. I remember baptism many years ago, which is more than my own, in Christ's name. It is the baptism with which Jesus, as a proxy, was baptized himself. Representing the human race, Jesus is the last Adam. Like us, he was born human. He lived, died, and was raised with a glorified human body and ascended to heaven. When we are baptized, we connect with the baptism of Jesus through the Holy Spirit. In other words, when we are baptized, we are baptized in Jesus. This baptism is completely Trinitarian. When Jesus was baptized by his cousin John the Baptist, the Trinity was given: «When Jesus rose from the water, the sky above him opened and he saw the Spirit of God floating down like a dove and coming upon himself. At the same time, a voice from heaven spoke: <This is my beloved son that I enjoy! I chose him (Matthew 3,16: 17 Hope for All).
Jesus was baptized in his role as the only mediator between God and man. He was baptized for the sake of humanity, and our baptism means participation in the full and vicarious love of the Son of God. Baptism is the foundation in the hypostatic connection through which God approaches humanity and humanity approaches God. The Hypostatic Connection is a theological term derived from the Greek word hypostasis, which describes the inseparable unity of the deity of Christ and humanity. So Jesus is at the same time completely God and human. Being completely divine and fully human, Christ, by his nature, draws God close to us and close to God. TF Torrance explains it as follows:
For Jesus, baptism meant that he was consecrated as the Messiah and that, as the righteous, he became one with us, taking upon himself our injustice so that his righteousness might become ours. For us, baptism means becoming one with Him, sharing in His righteousness, and being sanctified in Him as members of the messianic people of God, united to the one body of Christ. There is a baptism and a body through the one Spirit. Christ and his Church participate in the one baptism in different ways, Christ active and vicarious as Savior, the Church passive and receptive as the redeemed church.
When believers believe that they will be saved through the act of baptism, they misunderstand who Jesus is and what he did as Messiah, Mediator, Reconciler, and Redeemer. I love the answer TF Torrance gave when he was rescued. "I was saved about the death and resurrection of Jesus about 2000 years ago." His answer clarifies the truth that salvation is not in the baptismal experience, but in God's work in Christ through the Holy Spirit. When we talk about our salvation, we are transported back to the moment of salvation history that has little to do with us, but everything that has anything to do with Jesus. It was the moment when the Kingdom of Heaven was instituted and God's original plan to increase us was fulfilled in time and space.
Although at the time of my baptism I did not fully understand this four-dimensional reality of salvation, it is no less real, no less true. Baptism and the Lord's Supper concern Jesus as he unites with us and we with him. These grace-filled representations of worship are not in accordance with human conceptions, but with what is found in God's timetable. Whether we were baptized by sprinkling, watering, or immersion, the fact is what Jesus did to us through his atoning sacrifice. In Grace Communion International, we follow the example of Jesus and are usually baptized by immersion. That is not always possible. For example, most prisons do not allow baptism by immersion. Also, many frail people can not be submerged, and it is appropriate that babies be sprinkled. Let me connect this with another quote from TF Torrance:
All of this helps to make it clear that during baptism both the action of Christ and the ecclesiastical act in his name are ultimately not to be understood in the sense of what the Church is doing, but what God has done in Christ, what he is doing today and also will do for us in the future through his spirit. Its meaning does not lie in the rite and its execution, nor in the attitude of the baptized and their obedience to faith. Even the minor reference to baptism, which is inherently a passive act in which we receive and do not perform baptism, directs us to find meaning in the living Christ who cannot be separated from his accomplished work, who makes us present through the power of his own reality (Theology of Reconciliation, p. 302).
Remembering Holy Week and rejoicing at the celebration of Jesus' passionate sacrifice, I lovingly remember the day I was baptized by immersion. I understand now much better and deeper Jesus' act of obedience to our faith for our own sake. My hope is that a better understanding of your baptism will be a real connection to the baptism of Jesus and will always be a reason to celebrate.
Appreciating our baptism in gratitude and love,
Joseph Tkach
president
GRACE COMMUNION INTERNATIONAL
---

The appreciation of our baptism