Why does God make Christians suffer?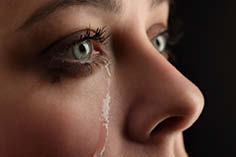 As servants of Jesus Christ, we are often asked to comfort people as they go through various kinds of suffering. In times of suffering, we are asked to donate food, shelter or clothing. But in times of suffering, in addition to asking for physical help, we are sometimes asked to explain why God allows Christians to suffer. This is a difficult question to answer, especially if it is asked at a time of physical, emotional or financial distress. Sometimes the question is asked in such a way that the character of God is questioned.
The image of suffering Christians in an industrialized Western culture is often very different from that of suffering Christians in a poorer economic region of the world. What should be our expectation in terms of suffering as Christians? Some Christians are taught that once they become Christians, they should no longer suffer in their lives. They are taught that suffering is caused by Christians through lack of faith.
Hebrews 11 is often called the chapter of faith. It praises certain people for their trusting faith. Among the people listed in Hebrews 11 are those in need, who have been persecuted, mistreated, tortured, beaten, and killed (Hebrews 11: 35-38). It is clear that their suffering was not caused by a lack of trust, as they are listed in the chapter of faith.
Suffering is a consequence of sin. But not all suffering is a direct result of sin in the life of the Christian. During his earthly ministry, Jesus came across a man who was born blind. The disciples asked Jesus to identify the origin of the sin that caused the man to be born blind. The disciples assumed that the suffering was caused by the sin of the man, or perhaps the sin of his parents, since the man was born blind. When asked to identify the sin that caused blindness, Jesus replied: Neither He sinned nor his parents; but the works of God should be revealed to him " (John 9,1: 4). Sometimes God allows suffering in the lives of Christians to give an opportunity to present the gospel of Jesus Christ.
The Christians who lived in the first century certainly did not expect a Christian life without suffering. The apostle Peter wrote the following to his brothers and sisters in Christ (1.Pet. 4,12-16): Beloved, do not let the fire test that has arisen among you be astonished, as if something strange was happening to you; but to the extent that you share in the sufferings of Christ, rejoice, so that you can also rejoice in the revelation of His glory. You are blessed when you are reviled for the name of Christ! For the spirit of the glory of God rests on you; with them he is blasphemed, but with you glorified. Therefore, none of you should suffer as a murderer or thief or malefactor, or because he mixes in strange things; but if he suffers as a Christian, he should not be ashamed, but should glorify God in this matter!
Suffering should not be unexpected in a Christian's life
God does not always remove suffering from our lives. The apostle Paul was in pain. He asked God three times to take away this suffering. But God did not remove suffering because suffering was a tool that God used to prepare the Apostle Paul for his ministry (2 Corinthians 12,7: 10). God does not always remove our suffering, but we know that God comforted and strengthened us through our suffering (Philippians 4: 13).
Sometimes only God knows the reason for our suffering. God has an intention for our suffering regardless of whether He reveals His intention to us. We know that God uses our suffering for our own good and glory (Rom. 8,28). As God's servants, we are unable to answer the question of why God allows suffering in any particular situation, but we do know that God is sublime and fully in control of all situations (Dan. 4,25). And this God is motivated by love because God is love (1 John 4,16).
We know that God loves us with unconditional love (1 John 4,19) and that God never gives up or leaves us (Heb.13,5b). While serving our suffering brothers and sisters, we can show them genuine compassion and support by taking care of them in their trials. The apostle Paul reminded the Church in Corinth to comfort one another in times of suffering.
He wrote (2 Cor. 1,3-7): Praise be to the God and Father of our Lord Jesus Christ, the Father of Mercy and God of all comfort, who comfort us in all our troubles so that we can comfort those who are in all kinds of troubles through the consolation with which we ourselves are comforted by God. For just as the sufferings of Christ pour freely over us, so does our consolation flow through Christ.

If we have affliction, it is for your comfort and salvation, which proves effective, in steadfast mortification of the same sufferings that we too suffer; if we are comforted, it is for your comfort and your salvation; and our hope for you is certain, for we know that as much as you share in the suffering, so also in the comfort.
The psalms are good resources for every sufferer; because they express grief, frustration and questions about our exams. As the psalms show, we cannot see the cause of suffering, but we do know the source of comfort. The source of comfort for all suffering is Jesus Christ our Lord. May our Lord strengthen us as we serve suffering people. Let us all seek consolation in our Lord, Jesus Christ, during times of suffering and we will remain in him until the day when he permanently removes all suffering from the universe (Rev. 21,4).
by David Larry
---

Why does God allow Christians to suffer?