God is with us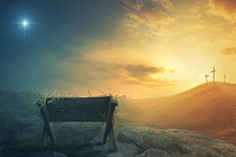 The Christmas season is just behind us. Like the fog, all signs of Christmas will disappear in our newspapers, on television, in shop windows, on the street and in homes.
You have probably heard the saying: "Christmas only takes place once a year". The Christmas story is good news from a God who does not only come occasionally, as he did to the people of Israel. It is a story about Immanuel, "God with us" - which is always present.
When the storms of life come down on us from all sides, it is difficult to realize that God is with us. We may have the feeling that God is sleeping, as it did when Jesus was in the boat with his disciples: «And he got in the boat and his disciples followed him. And behold, there was a tremendous storm on the lake, so that the boat was also covered by waves. But he was asleep. And they came up to him, woke him up and said: Lord, help us, we will perish! » (Matthew 8,23: 25).
At the time when the birth of Jesus was predicted, it was a stormy situation. Jerusalem had been attacked: "It was announced to the house of David: The Aramaeans had camped in Ephraim. Then the heart and the heart of his people shook like the trees in the forest shaking before the wind [storm] » (Isaiah 7,2). God recognized the great fear King Ahaz and his people were in. So he sent Isaiah to tell the king not to be afraid, because his enemies would be unsuccessful. Like most of us in such situations, King Ahaz did not believe. God sent Isaiah again with another message: "Ask a sign from the Lord your God [to prove that I will destroy your enemies as promised] that it is down below or up there!" (Isaiah 7,10: 11). The king felt embarrassed to test his god by asking him for a sign. That is why God said through Isaiah: "Therefore the Lord himself will give you a sign: Behold, a virgin is pregnant and will give birth to a son, whom she will call Immanuel" (Isaiah 7,14). To prove that he would liberate them, God gave the sign of the Nativity, which would be called Immanuel.
The Christmas story should remind us daily that God is with us. Even if the situation looks bleak, even if you have lost your job, even if a dear person has died, even if you have failed in your course, even if your spouse has left you - God is with you!
It doesn't matter how dead your situation is, God lives in you and He brings life to your dead situation. "Do you believe that"? Just before Jesus' crucifixion and return to heaven, his disciples became very concerned because he would no longer be with them. Jesus said to them:
«But because I have spoken to you, your heart is full of sadness. But I'm telling you the truth: it's good for you to go away. Because if I don't go away, the comforter won't come to you. But if I go, I will send it to you » (John 16,6 -8). This comforter is the Holy Spirit that dwells in you. "If the spirit of those who raised Jesus from the dead now resides in you, he who raised Christ from the dead will also bring your mortal bodies to life through his spirit that dwells in you" (Romans 8,11).
God is always with you. May you experience Jesus' presence today and forever!
by Takalani Musekwa
---

God is with us