Stay focused on God's grace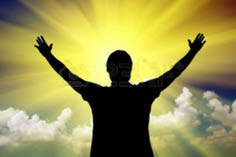 I recently saw a video that parodies a TV commercial. In this case it was about a fictional Christian CD with the title "It's All About Me" (All about me). The CD contained the songs: "Lord I Lift My Name on High" (Lord, I raise my name to heaven), "I Exalt Me" (I rise) and «There is None Like Me». (Nobody is like me). Strange? Yes, but it illustrates the sad truth. We humans tend to worship ourselves instead of God. As I mentioned recently, this tendency causes a short circuit in our spiritual education, which is based on trust in ourselves and not in Jesus, "the beginner and accomplisher of the faith" (Hebrews 12,2 Luther).
Through topics such as "Overcoming Sin", "Helping the Poor" or "Sharing the Gospel", preachers sometimes help people unintentionally take a wrong view of Christian life issues. These topics can be helpful, but not when people are focused on themselves instead of Jesus - who he is, what he did and does for us. It is vital to help people fully trust Jesus, both for their identity, for their calling and for their ultimate destiny. With eyes focused on Jesus, they will see what needs to be done to serve God and mankind, not by their own efforts, but by grace to participate in what Jesus, in accord with the Father and the Holy Spirit, and perfect love of people does.
Let me illustrate this with conversations I had with two committed Christians. I had the first discussion with a man about his struggle with giving. For a long time he tried to give the church more than he had budgeted, based on the wrong concept that giving in order to be generous must be painful. But no matter how much he gave (and how much pain he felt), he still felt guilty that he could give more. While he was writing a check for the weekly victim, one day, gratefully, his perspective on giving changed. He noticed how he focused on the question of what his generosity means to others and not how it affects him. The moment this change in thinking happened, to no longer feel guilty, his feeling turned into joy. For the first time, he understood a scripture that is often quoted in victim admissions: "This is how everyone should decide for themselves how much they want to give, voluntarily and not because the others do it. Because God loves the one who gives happily and willingly. » (2 Corinthians 9: 7 Hope for All). He realized that God loved him no less than when he was not a happy giver, but God now experiences and loves him as a joyful giver.
The second discussion was actually two conversations with a woman about her prayer life. The first conversation was about putting the clock to pray to be sure that it was praying for at least 30 minutes. She stressed that she was able to deal with all prayer requests during this time, but was shocked when she looked at the clock and saw that less than 10 minutes had passed. So she would pray even more. But every time she looked at the watch, the feelings of guilt and inadequacy would only increase. As a joke, I noticed that I felt like she was "worshiping the clock." In our second conversation, she told me that my remark revolutionized her approach to prayer (God gets the honor for that - not me). Apparently, my standing-by-hand comment got her way of thinking and when she prayed, she just started talking to God without worrying about how long she prayed. In a relatively short space of time she felt that she was more deeply connected to God than ever before.
Our Christian life focuses on our performance (including spiritual education, discipleship and mission) not a "you have to". Instead, it is about graceful participation in what Jesus is doing in us, through us, and around us. Focusing on one's own endeavors tends to end in self-righteousness. A self-righteousness that often compares itself to other people or even condemns them and wrongly leads them to believe that we have done something to deserve God's love. However, the truth of the gospel is that God loves everyone as much as only the infinitely great God can. That means he loves others as much as he loves us. God's grace removes any attitude "we against them" which increases itself as just and condemns others as unworthy.
"But," some may object, "what about people who commit great sins? Surely God does not love them as much as he loves faithful believers. » To answer this objection, we need only look at the heroes of faith in Hebrews 11,1: 40. These were not perfect people, many of them experienced colossal failures. The Bible tells of more stories about people whom God saved from failure than people who lived righteous lives. Sometimes we misinterpret the Bible as if the redeemed did the work instead of the Redeemer! If we do not understand that our lives are used to grace through discipline, not from our own efforts, we erroneously conclude that our reputation with God is due to our performance. Eugene Peterson addresses this mistake in his helpful book on discipleship, "A Long Obedience in the Same Direction."
The main Christian reality is the personal, unalterable, persevering commitment God places on us. Perseverance is not the result of our determination, but it is the result of God's faithfulness. We do not exist the way of faith because we have extraordinary powers, but because God is righteous. Christian discipleship is a process that makes our attention to God's justice ever stronger and our attention to one's own righteousness weaker. We do not recognize our purpose in life by exploring our feelings, motives, and moral principles, but by believing God's will and intentions. By emphasizing God's fidelity, not by planning the rise and fall of our divine inspiration.
God, who is always faithful to us, does not condemn us if we are unfaithful to him. Yes, our sins even bother him because they hurt us and others. But our sins do not decide whether or how much God loves us. Our triune God is perfect, he is the perfect love. There is no lesser or greater measure of his love for each person. Because God loves us, He gives us His Word and Spirit to enable us to clearly recognize our sins, to admit them to God and then to repent. That is, turning away from sin and returning to God and His grace. Ultimately, every sin is a rejection of grace. By mistake, people believe they can absolve themselves of sin. It is true, however, that anyone who renounces his selfishness, repenting and confessing sin, does so because he has accepted the merciful and transforming work of God. In his grace, God accepts everyone where he is, but he continues from there.
If we focus on Jesus and not ourselves, then we see ourselves and others in the way Jesus sees us as children of God. That includes the many who don't yet know their heavenly Father. Because we live a life pleasing to God with Jesus, He invites us and equips us to share in what He does, to reach those in love who do not know Him. As we participate in this process of reconciliation with Jesus, we see with greater clarity what God is doing to move his beloved children, to turn to him in repentance, to help them put their lives fully under his care. Because we share this ministry of reconciliation with Jesus, we find out much more clearly what Paul meant when he said that the law condemns but God's grace gives life (see Acts 13,39:5,17 and Romans 20). Therefore, it is fundamentally important to understand that our entire ministry, including our teaching on the Christian life, with Jesus, is done in the power of the Holy Spirit, under the umbrella of God's grace.
I stay tuned to God's grace.
Joseph Tkach
President GRACE COMMUNION INTERNATIONAL
---

Stay focused on God's grace