The best of all gifts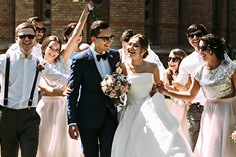 It was the most elaborate wedding of the year and the millionaire father of the bride did not mind, so that the wedding of his first-born daughter would be an unforgettable event. The most important people of the city were on the guest list and the gift list was sent along with the invitations to all guests. On the big day, the guests came by the hundreds and delivered their gifts. The bridegroom, however, was neither rich nor from a wealthy family. Notwithstanding that the father was very rich, the guests brought very exclusive gifts, which served mainly to impress the father of the bride.
When the couple moved into their small apartment, they started to unpack the presents to find out which guest gave them what. Although there was little room in her apartment to accommodate all of the presents, there was one present that the bride wanted to unpack - the present from her father. After unpacking all the big boxes, she realized that none of the magnificent gifts were from her father. Among the smaller packages was a gift wrapped in brown wrapping paper and when she opened it, she realized that there was a small leather-bound Bible inside. The inside said: "To our beloved daughter and son-in-law for the wedding of mom and dad". Below that were two passages from the Bible: Matthew 6,31: 33–7 and Matthew 9: 11–XNUMX.
The bride was very disappointed. How could her parents just give her a Bible? This disappointment continued for the next few years and continued even after her father's death. A few years later, on the day of his death, she saw the Bible her parents had given her for the wedding and took it from the bookshelf where she had been lying ever since. She opened the first page and read: «To our beloved daughter and son-in-law for the wedding. From mom and dad ». She decided to read this passage in Matthew 6 and when she opened her Bible, she found a check with her name and a million francs worth. Then she read the passage from the Bible: "You should not worry about that and say: What shall we eat? What will we drink What will we dress with? The Gentiles strive for all this. Because your heavenly Father knows that you need all of this. If you seek the kingdom of God and His righteousness first, it will all fall to you (Matthew 6: 31-33). Then she turned the page and read the following verse: "Who is among you men who offer a stone to his son when he asks him for bread? Or if he asks him for a fish, offers a snake? If you, who are bad, can still give your children good gifts, how much more will your Heavenly Father give good things to those who ask him » (Matthew 7,9: 11). She started crying bitterly. How could she have misunderstood her father? He loved her so much, but she just didn't recognize it - what a tragedy!
A much too nice gift
In a few weeks the world will celebrate Christmas again. Many are concerned about which gift to buy for which family member. Many are already wondering what gifts they will receive this year. Unfortunately, only a few know the Christmas present that they have long received. The reason they don't want to know about this gift is because it was a diapered child in a crib. Just as the wedding couple deemed the brown paper and their Bible worthless, so many people ignore the gift that God gave us through Jesus Christ. The Bible sums it up as follows: "We thank God for his son - a gift that is so wonderful that it cannot be put into words!" (2 Corinthians 9,15 New Life Bible).
Even if your parents give you beautiful gifts for this Christmas, you have also given them the sin. Yes, you will die! But before blaming your parents for it, realize that their parents received the sin from their own parents, who in turn received it from their ancestors, and ultimately from Adam, the forefather of humanity.
However, there is good news - it is even great news! An angel brought this news to Schäfern 2000 years ago: «I bring good news for everyone! The Savior - yes, Christ the Lord - was born tonight in Bethlehem, the city of David » (Luke 2,11: 12–XNUMX New Life Bible). The Gospel of Matthew also tells of a dream that Joseph had: "She, Maria, will give birth to a son. You should give him the name Jesus, because he will deliver his people from all sins » (Matthew 1,21).
You shouldn't put the most valuable of all gifts aside. In Christ, life and his birth pave the way for his second coming. When he comes back, «He will wipe away all her tears and there will be no death and no grief, no crying and no pain. Because the first world with all its calamity has passed forever » (Revelation 21,4)
Wise this Christmas, like the wise men of the Orient, and open your Bible and discover the all-changing message of the gift that God gives you. Accept this gift, Jesus, for Christmas! You can also pass this magazine as a Christmas present and it may become the most important of all the gifts you have ever given away. The recipient can thus get to know Jesus Christ, because in this packaging is the greatest treasure!
by Takalani Musekwa