God's grace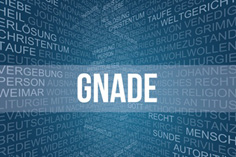 Grace is the first word in our name because it best describes our individual and shared journey to God in Jesus Christ through the Holy Spirit. "Rather, we believe that by the grace of the Lord Jesus we will be saved, as will they" (Acts 15:11). We are "without merit righteous from His grace through redemption through Christ Jesus" (Romans 3:24). By grace alone God leaves us (through Christ) share in his own righteousness. The Bible constantly teaches us that the message of faith is a message about God's grace (Acts 14,3; 20,24; 20,32).
The basis of God's relationship with man has always been grace and truth. While the law was an expression of these values, God's grace itself found full expression through Jesus Christ. By the grace of God we are saved only by Jesus Christ and not by keeping the law. The law by which every man is damned is not God's last word for us. His last word for us is Jesus. He is the perfect and personal revelation of God's grace and truth that he freely gave to humanity.
Our conviction under the law is justified and just. We do not obtain legitimate behavior from ourselves because God is not a prisoner of his own laws and legalities. God in us works in divine freedom according to his will. His will is defined by grace and redemption. The apostle Paul wrote the following: «I am not throwing away the grace of God; because if righteousness comes through the law, Christ died in vain " (Galatians 2:21). Paul describes God's grace as the only alternative that he does not want to throw away. Grace is not a thing that is weighed and measured and that can be traded with. Grace is the living goodness of God through which he pursues the human heart and mind and changes both. In his letter to the church in Rome, Paul writes that the only thing we try to accomplish through our own effort is sin, namely death itself. That is the bad news. But there is also a particularly good one, because "the gift of God is eternal life in Christ Jesus our Lord" (Romans 6:24). Jesus is the grace of God. It is God's redemption that has been released for all people.