The church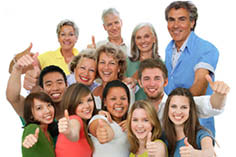 A beautiful biblical picture speaks of the Church as the bride of Christ. Symbolism in various scriptures, including the Song of Songs, alludes to it. A key passage is Song of Songs 2,10: 16, where the bride's lover says that her winter time is over and now the time for singing and joy has come (see also Hebrews 2,12), and also where the bride says: "My friend is mine and I am his" (St. 2,16). The Church belongs both individually and collectively to Christ and he belongs to the Church.
Christ is the bridegroom who "loved the Church and gave himself up for it" so that it "be a glorious church and have no stains or wrinkles or anything like that" (Ephesians 5,27). This relationship, says Paul, "is a great secret, but I point it to Christ and the church" (Ephesians 5,32).
John takes up this topic in the Book of Revelation. The triumphant Christ, the Lamb of God, marries the bride, the church (Revelation 19,6: 9-21,9; 10), and together they proclaim the words of life (Revelation 21,17).
There are additional metaphors and images that are used to describe the church. The Church is the flock that needs caring shepherds who take care of them along the lines of Christ (1 Peter 5,1: 4); it is a field where workers are needed to plant and water (1 Corinthians 3,6: 9); the church and its members are like vines on a vine (John 15,5); the church is like an olive tree (Romans 11,17-24).
As a reflection of the present and future kingdom of God, the church is like a mustard seed that grows into a tree in which the birds of the sky find refuge (Luke 13,18: 19); and like leaven that makes its way through the dough of the world (Luke 13,21), etc.
The Church is the body of Christ and consists of all those who are recognized by God as members of the "Church of the Saints" (1 Corinthians 14,33). This is significant for the believer because community participation is the means through which the Father preserves us and sustains us until Jesus Christ returns.
by James Henderson