Salvation for all people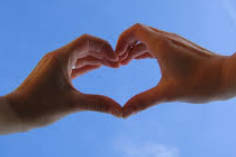 Many years ago I had heard a message for the first time that has often comforted me since then. I also look at it today as a very important message of the Bible. It is the message that God is saving all humanity. God has prepared a way in which all people can attain salvation. He is now implementing his plan. First we want to look in God's Word for the way of salvation. In Romans Paul describes the situation in which people find themselves:
"All sinned and miss the glory that they should have before God" (Romans 3,23 Schlachter 2000).
God has provided glory for the people. This signifies what we humans desire as happiness, as the fulfillment of all our desires. But we humans have lost or missed this glory through sin. Sin is the great obstacle that has separated us from glory, an obstacle that can not be overcome for us. But God has removed this obstacle through his Son Jesus.
"And without merit do justice to His grace through the redemption that was done through Christ Jesus" (Verse 24).
Salvation, then, is the way God has provided for people to give them access to God's glory again. God has provided only one access, one way, but people try to offer and choose detours and other ways to attain salvation. That's one of the reasons why we know so many religions. Jesus said of himself in John 14,6, " I am the way ». He didn't say he was one of many ways, but the way. Peter confirmed this before the High Council:
"And in no other is salvation (Salvation), too no other name given to people under heaven through which we are to be saved to be (saved) » (Acts 4,12).
Paul wrote to the church at Ephesus:
«You too were dead by your transgressions and sins. Therefore remember that at one time you Gentiles by birth and uncircumcised Were you called by those who are circumcised outwardly that you were at that time without Christ, excluded from the commonwealth of Israel and strangers from the covenants of promise; Therefore, you had no hope and waited in the world without God » (Ephesians 2,1: 11 and 12).
We are looking for ways out and alternatives in difficult situations. That's right. But when it comes to sin, we have only one option: salvation through Jesus. There is no other way, no alternative, no other hope, no other chance than what God has been planning to do since: Salvation through his son Jesus Christ .
If we keep this fact in mind, it raises questions. Questions that have already been asked by many Christians:
What about my dear deceased relatives who did not convert?
What about the many millions who have never heard the name of Jesus in their lives?
What about the many innocent infants who died without knowing Jesus?
Do these people have to suffer hell because they have never heard Jesus' name?
Many answers have been given to these questions. Some say that God only wants to save a few whom he has chosen and planned to do before the foundation of the world. Others say God will finally save everyone, whether they like it or not, that God is not cruel. There are many shades between these two opinions, which I do not discuss now. We are dedicated to the statements of God's Word. God wants salvation for all people. This is his outspoken will, which he made clear and clear.
"This is good and acceptable before God, our Savior who wants that all People are helped and they come to the knowledge of the truth. For it is a God and a mediator between God and men, namely the man Christ Jesus, who gave himself for a All for salvation » (1 Timothy 2,3: 6–XNUMX).
God clearly shows he wants to create salvation for all. He also revealed in his Word His will that no one would be lost.
"The Lord is not slack concerning the promise, as some count slackness, but is patient with you and do not want someone to get lost , but that everyone can find buses » (1 Peter 3,9).
How will God implement his will in practice? God does not emphasize in his Word the temporal aspect, but how the sacrifice of his Son serves the salvation of all humanity. We are dedicated to this aspect. At the baptism of Jesus, John the Baptist pointed to an important fact:
"The next day John saw Jesus coming to him, and saith, Behold the Lamb of God, which of the world Sin carries » (John 1,29).
Jesus took upon Himself the whole sin of the world, not just a part of that sin. He has taken upon himself all injustice, all wickedness, all wickedness, every deceit, and all falsehood. He bore this huge burden of the sins of the whole world and suffered death for all people, the penalty for sin.
"And he is the propitiation for our sins, not alone but for ours but also for the the whole world » (1 John 2,2).
Through his great deed, Jesus has opened a door to their salvation for the whole world, for all people. Despite the weight of the burden of sins that Jesus sustained, and despite the hardships and sufferings that he had to endure, Jesus took all out of deep love for us, out of love for all people. The well-known scripture in tells us:
"For God so the world loved that he gave his only begotten son so that all who believe in him are not lost, but have eternal life » (John 3,16).
He has made "good pleasure" out for us. Not to indulge in sadistic feelings, but from deep affection for all people.
"Because it pleased God that in it (Jesus) all abundance should live, and he through him everything was reconciled be it on earth or in heaven, making peace through his blood on the cross » (Colossians 1,19-20).
We understand who is this Jesus? He is not "just" the Savior of all mankind, he is their Creator and Sustainer. He is the person who has brought through His Word into being ourselves and the world. It is also he who keeps us alive, provides us with food and clothing, who keeps all systems in space and on earth going so that we even exist. Paul points to this fact:
"Because Everything is created in him that which is in heaven and on earth, the visible and the invisible, are thrones or dominions or powers or powers; everything is created by him and to him. And he is above all, and everything is there in him » (Colossians 1,16-17).
Jesus the Redeemer, Creator and Sustainer made a special statement shortly before his death.
"And I, when I am lifted up from the earth, I will All move to me. But he said that to indicate what death he would die » (John 12,32).
Jesus meant by the "exaltation" his crucifixion, which brought his death. He predicted that he would involve everyone in this death. When Jesus says everyone, he means everyone, all people. Paul took up this thought:
«Because the love of Christ urges us, especially since we are convinced that if one died for all, then they all died» (2 Corinthians 5,14).
With Christ's death on the cross, he brought death to every human being in one respect, for he drew them all to the cross. All have died through the death of their Redeemer. All humans thus have the acceptance of this vicarious death available. However, Jesus did not remain dead but was raised by his father. In his resurrection, he also got everyone involved. All people will be resurrected. This is a basic statement of the Bible.
«Don't be surprised. For the hour will come when all who are in the graves will hear his voice and will come forth who have done good for the resurrection of life, but who have done evil for the resurrection of judgment » (John 5,28: 9).
Jesus did not give a time statement about this statement. Whether these two resurrections take place at the same time or at different times does not mention Jesus here. We will read some Bible passages about the judgment. Here it is revealed to us who the judge will be.
«Because the father does not judge anyone, but has all judgment handed over to the son so that they all honor the son. He who does not honor the Son does not honor the Father who sent him. And he has given him authority to hold the court, because he is the Son of Man » (John 5, verses 22-23 and 27).
The judge, before whom everyone has to answer, will be Jesus Christ himself, the creator, sustainer and redeemer of every human being. The judge is the same personality who suffered death for all people, the same who brings reconciliation to the world, the same who gives physical life to every human being and keeps him alive. Could we wish for a better judge? God has handed over judgment to his son because he is the Son of Man. He knows what it means to be human. He knows us humans close up, is one of us. He knows first-hand the power of sin and the seduction of Satan and his world. He knows the human feelings and urges. He knows how powerful they are, because he created man and became himself a man like us, but without sin.
Who does not want to trust this judge? Who would not react to the words of this judge, prostrate themselves and confess his guilt?
«Truly, truly, I tell you: Who hears my word and believes the one who sent me, he has eternal life and does not come to judgment, but has passed from death to life » (Verse 24).
The judgment that Jesus performs will be absolutely just. It is characterized by impartiality, love, forgiveness, compassion and mercy.
Even though God and his Son, Jesus Christ, have created the best conditions for each person to attain eternal life, some people will not accept His salvation. God will not force you to happiness. They will reap what they have sown. When the court is over, there are only two groups of people, as CS Lewis put it in one of his books:
The one group will say to God: Your will be done.
To the other group God will say: Thy will be done.
When Jesus was on earth, he spoke of hell, of eternal fire, howls and teeth chattering. He spoke of damnation and eternal punishment. This is a warning to us so that we do not recklessly handle God's promise of salvation. In God's word damnation and hell are not placed in the foreground, in the foreground stands God's love and concern for all people. God wants salvation for all people. But whoever does not want to accept this love of God and forgiveness, God leaves his will. The eternal punishment, however, will not be suffered by anyone who does not want it expressly. God does not condemn anyone who has never had the opportunity to learn about Jesus and his saving work.
In the Bible we find two scenes of the World Court written down. One is found in Matthew 25 and the other in Revelation 20. I recommend you to read them. They show us the perspective of how Jesus will judge. The court is represented in these places as an event that is held at a certain time. Let us turn to a scripture that points out that one can understand a longer period of time under the judgment.
«Because the time has come for judgment to begin at the house of God. But if it comes to us first, what will it end with those who do not believe the gospel of God » (1 Peter 4,17).
The house of God is used here as a name for church or community. She stands in court today. Christians have heard and responded to God's call in their time. They have come to know Jesus as Creator, Sustainer and Redeemer. For her, the court is now taking place. The house of God is never judged differently. Jesus Christ uses the same standard for all people. This is marked by love and mercy.
The house of God has been given a task by his Lord to participate in the salvation of all mankind. We are called to preach the good news of the kingdom of God to our fellowmen. Not all people pay attention to this message. Many despise her, because to her she is folly, uninteresting or meaningless. We must not forget that God's work is to save people. We are his employees who often make mistakes. Let us not be discouraged if the success of our work seems to be missing. God is always working and calling and accompanying people to themselves. Jesus sees that the called ones will reach their goal.
"Nobody can come to me unless the father who sent me pull him, and I will raise him up on the last day. Everything my father gives me comes to me; and whoever comes to me, I will not push him out. Because I came from heaven not to do my will, but the will of those who sent me. But this is the will of the one who sent me that I lose nothing of everything that he gave me, but that I raise it up on the Last Day » (John 6,44 and 37-39).
Let's put our hope entirely on God. He is the Savior, Savior and Redeemer of all people, especially the believers. (1 Timothy 4,10) Let us keep this promise of God!
by Hannes Zaugg
---

Salvation for all people