God's relationship with his people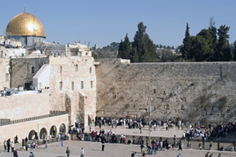 When a man wanted to adopt a child in ancient tribal societies, he said the following words in a simple ceremony: «I will be a father to him and he will become my son. »During the marriage ceremony, a similar phrase was spoken:« She is my wife and I am her husband ». In the presence of witnesses, the relationship they had with each other was reported and through these words it was officially declared valid.
Like in a family
When God wanted to express his relationship with ancient Israel, he sometimes used similar words: "I am Israel's father and Ephraim is my firstborn son" (Jeremiah 31,9). For this he used words that describe a relationship - like that of parents and children. God also uses marriage to describe the relationship: "He who made you is your husband ... he called you to him like a woman" (Isaiah 54,5: 6). «I want to be engaged to you for all eternity» (Hosea 2,21).
The relationship is formulated much more often: "You should be my people and I want to be your God." In ancient Israel the word "people" meant that there was a strong relationship between them. When Rut said to Naomi: "Your people are my people" (Rut 1,16), she promised to enter into a new and lasting relationship. In doing so, she explained where she would belong. Confirmation in times of doubt When God says, "You are my people," he emphasizes (like Rut) the relationship stronger than the affiliation. «I am bound to you, you are like a family to me». God says this more often in the books of the prophets than in all the previous scriptures put together.
Why is this repeated so often? It was because of Israel's lack of loyalty that questioned the relationship. Israel had ignored his covenant with God and worshiped other gods. Therefore, God allowed the northern tribes of Assyria to be conquered and the people led away. Most of the Old Testament prophets lived shortly before the conquest of the nation of Judah and their passage into slavery by the Babylonians.
People wondered. It's all over? Did God reject us? The prophets confidently repeated: No, God has not given up on us. We are still his people and he is still our God. The prophets predicted a national restoration: people would return to their country and, most importantly, return to God. The future form is often used: "You will be my people and I will be your God". God didn't reject them; he will restore the relationship. He will do this and it will be better than it was.
The message of the prophet Isaiah
"I raised and looked after children and through me they made it, but they turned away from me," says God through Isaiah. "They turned from the LORD, rejected the Holy One of Israel and renounced him" (Isaiah 1,2: 4 and; New Life). The result was that the people were captured. «That is why my people have to move away because it is without reason» (Isaiah 5,13; New Life).
The relationship seemed to be over. "You have rejected your people, the house of Jacob," we read in Isaiah 2,6. However, this should not apply forever: "Do not be afraid, my people, who live in Zion ... Because it is only a little while longer so my disgrace will end" (10,24-25). «Israel, I will not forget you!» (44,21). "For the LORD has comforted his people and has compassion on his poor" (49,13).
The prophets spoke of a huge repatriation: "The LORD will have mercy on Jacob and choose Israel again and put her in her country" (14,1). «I want to say to the north: give it here !, and to the south: don't hold back! Bring my sons from afar and my daughters from the end of the earth » (43,6). «My people will live in peaceful floodplains, in safe apartments and in proud tranquility» (32,18). "The LORD God will wipe the tears from all faces ... At that time it will be said:" Behold, this is our God, whom we hoped he would help us with " (25,8-9). And God said to them: "You are my people" (51,16). «You are my people, sons who are not wrong» (63,8).
There is good news, not only for Israel, but for everyone: «Foreigners will join them and be attached to the house of Jacob» (14,1). "The stranger who turned to the Lord should not say: The Lord will keep me separate from his people" (56,3). "The Lord Zebaoth will make a rich meal for all peoples on this mountain" (25,6). They will say: "This is the LORD ... let us rejoice and be happy about his salvation" (25,9).
The message of the prophet Jeremiah
Jeremiah combines the family pictures: "I thought: How do I want to hold you as if you were my son and give you the dear country ..., I thought you would then call me" Dear Father "and not leave me. But the house of Israel has not been faithful to me, just as a woman has not been faithful to her lover, saith the LORD » (Jeremiah 3,19-20). "You did not keep my covenant whether I was your lord [husband] right away" (31,32). In the beginning, Jeremiah predicted that the relationship would end: "You do not belong to the LORD! They despise me, says the LORD, the house of Israel and the house of Judah » (5,10-11). «I punished Israel for adultery and released her and gave her a divorce letter» (3,8). However, this is not a permanent rejection. «Isn't Ephraim my dear son and my dear child? Because whenever I threaten him, I have to remember him; therefore my heart breaks for me to have mercy on him, saith the LORD » (31,20). "How long are you going to go astray, renegade daughter?" (31,22). He promised that he would restore it: "I want to collect the remnants of my flock from all countries, wherever I have sent them to" (23,3). "The time is coming, says the Lord, that I will turn the fate of my people Israel and Judah, says the Lord" (30,3). «See, I want to bring them from the land of the north and I want to collect them from the ends of the earth» (31,8). «I want to forgive them for their iniquity and never remember their sin» (31,34). "Israel and Judah shall not become widows, forsaken by their God the LORD of hosts" (51,5). It is very important that God will change them so that they will be faithful: "Come back, renegade children, I will heal you from your disobedience" (3,22). "I will give them a heart so that they can recognize me that I am the LORD" (24,7).
«I want to put my law in her heart and write in her mind» (31,33). "I want to give them all the same meaning and the same change, and I want to put fear into my heart that they won't leave me" (32,39-40). God promises a renewal of their relationship, which amounts to the conclusion of a new covenant with them: "They should be my people and I want to be their God" (24,7; 30,22; 31,33; 32,38). «I want to be the God of all the generations of Israel and they should be my people» (31,1). «I want to make a new covenant with the house of Israel and with the house of Judah» (31,31). «I want to form an eternal covenant with you that I don't want to let go of doing good to you» (32,40).
Jeremiah saw that the Gentiles would also belong: "Against all my bad neighbors who touch the inheritance that I have given to my people of Israel: Behold, I will tear them out of their land and tear the house of Judah out of their midst. ... And it will happen when they learn from my people to swear by my name: As the Lord lives! ... so they should live in the midst of my people » (12,14-16).
The prophet Ezekiel has a similar message
The prophet Ezekiel also describes God's relationship with Israel like a marriage: «And I went past you and looked at you, and behold, it was the time to woo you. Then I spread my coat over you and covered your nakedness. And I swore it to you and made a covenant with you, says the Lord GOD, that you should be mine » (Ezekiel 16,8). In another analogy, God describes himself as a shepherd: "As a shepherd searches for his sheep when they are lost from his flock, I want to find my sheep and save them from all places where they were scattered" (34,12-13). According to this analogy, he modifies the words about the relationship: "You shall be my flock, the flock of my pasture, and I want to be your God" (34,31). He predicts that the people will return from exile and God will change their hearts: «I want to give them a different heart and give them a new spirit and I want to take the stone heart out of their bodies and give them a flesh-heart, so that walk them in my commandments and keep my orders and do afterwards. And they should be my people and I want to be their God » (11,19-20). The relationship is also described as a covenant: "But I want to remember my covenant that I made with you in your youth and I want to establish an eternal covenant with you" (16,60). He will also dwell among them: "I will dwell among them and will be their God and they shall be my people" (37,27). «Here I want to live forever among the Israelites. And the house of Israel should no longer desecrate my holy name » (43,7).
The message of the little prophets
The prophet Hosea also describes a break in the relationship: "You are not my people, so I do not want to be yours" (Hosea 1,9). Instead of the usual words for marriage, he uses the words of a divorce: "She is not my wife and I am not her husband!" (2,4). However, as has already happened with Isaiah and Jeremiah, this is an exaggeration. Hosea quickly adds that the relationship is not over: "Then, says the Lord, you will call me" my husband "... I will be engaged to you for all eternity" (2,18 & 21). "I want to have mercy on Lo-Ruhama [the unloved] and I want to say to Lo-Ammi [Not my people]:" You are my people "and they will say:" You are my God. "" (2,25). "That is how I want to heal her apostasy again; I would like to love her; for my anger should turn away from them » (14,5).
The prophet Joel finds similar words: "Then the LORD will jealous for his country and spare his people" (Joel 2,18). «My people should no longer be put to shame» (2,26). The prophet Amos also writes: "I want to turn the captivity of my people Israel" (On 9,14).
"He will have mercy on us again," wrote the prophet Micha. "You will remain faithful to Jacob and show mercy to Abraham, as you swore to our fathers before." (Wed 7,19-20). The prophet Zechariah offers a good summary: «Rejoice and be happy, you daughter Zion! For behold, I come and will live with you, saith the LORD » (Zechariah 2,14). "Behold, I will redeem my people from the land against the rising and from the land against the setting of the sun, and I will bring them home to live in Jerusalem. And they shall be my people and I will be their God in faithfulness and righteousness » (8,7-8).
In the last book of the Old Testament, the prophet Malachi wrote: "They shall be my property, says the Lord Zebaoth, on the day that I want to do, and I will have mercy on them like a man who has mercy on his son who takes care of him serves » (Times 3,17).
by Michael Morrison
---

God's relationship with his people