Who is Barabbas?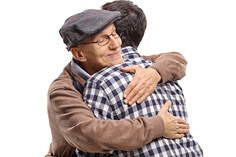 All four Gospels mention individuals whose lives were somewhat changed by a brief encounter with Jesus. These encounters are recorded in a few verses, but illustrate one aspect of grace. "But God shows his love for us in the fact that Christ died for us when we were still sinners" (Romans 5,8). Barabbas is such a person who was especially able to experience this grace.
It was the time of the Jewish Passover. Barabbas was already in custody and awaiting execution. Jesus had been arrested and was on trial in front of Pontius Pilate. Pilate knew that Jesus was innocent of the charges against him, and tried a trick to get him out. "At the festival, however, the governor had the habit of releasing a prisoner to the people whom they wanted. At the time, however, they had a notorious prisoner called Jesus Barabbas. And when they were gathered together, Pilate said to them, Which one do you want? Who should I release to you, Jesus Barabbas or Jesus, who is said to be the Christ? " (Matthew 27,15: 17).
So Pilate decided to grant their request. He released the man who had been jailed for insurrection and murder and handed Jesus over to the will of the people. So Barabbas was saved from death and Jesus was crucified in his place between two thieves. Who is this Jesus Barabbas as a human being? The name "Bar abba [s]" means "son of the father". Johannes simply speaks of Barabbas as a "robber", not someone who breaks into a house like a thief, but one of the kind that bandits, privateers, and looters are, those who devastate, destroy and exploit the misery of others. So Barabbas was a base figure.
This brief encounter ends with the release of Barabbas, but leaves some interesting, unanswered questions. How did he live the rest of his life after the eventful night? Has he ever thought about the events of this Passover? Did it cause him to change his lifestyle? The answer to these questions remains a mystery.
Paul did not experience the crucifixion and resurrection of Jesus himself. He writes: "First of all, I passed on to you what I also received: that Christ died for our sins according to Scripture; and that he was buried; and that he was raised on the third day after Scripture" (1 Corinthians 15,3: 4). We think about these central events of the Christian faith especially in Easter. But who is this released prisoner?
You are this released prisoner. The same germ of wickedness, the same germ of hatred, and the same germ of rebellion that had sprung up in the life of Jesus Barabbas also slumbers somewhere in your heart. Although it does not obviously bring evil fruits in your life, God sees it very clearly: "For the wages of sin is death; but the gift of God is eternal life in Christ Jesus our Lord» (Romans 6,23).
How should you live the rest of your life in light of the grace revealed in these events? In contrast to Barabbas, the answer to this question is not a puzzle. Many verses in the New Testament give practical principles for Christian life, but the answer is probably best summed up by Paul in his letter to Titus: "For it has appeared the healing grace of God to all people and educates us that we should refuse the godless being and the worldly desires and prudent, just and pious in this world live and wait for the blessed hope and appearance of the glory of the great God and our Savior, Jesus Christ, who gave himself for us so that he could redeem us from all injustice and a people cleaned themselves to property who would be eager to do good works " (Titus 2,11: 14).
by Eddie Marsh