The Holy Spirit makes it possible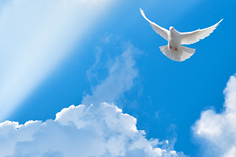 Are you ready to get out of the comfort zone and put your faith and trust in Christ? In the middle of a violent storm, Peter stepped out of the relative safety of the boat. He was the one in the boat who was ready to believe in Christ and do the same to him: "Walking on water" (Matthew 14,25: 31).
Do you know the situation in which you deny having something to do with something that gets you into trouble? This happened to me a lot in my youth. «I would have broken the window in my brother's room? Why me? No!" «Was it me who shot a hole in the door of the shed next door with a tennis ball? No!" And what if I am accused of being friends with a revolutionary, a dissident, an enemy of the Roman emperor? "But not me!" Peter denied Christ after his arrest in the Gethsemane garden. This fact of denial shows how human, weak and incapable we are to do something on our own.
A few weeks later, filled with the Holy Spirit, Peter delivers a courageous speech to the assembled people in Jerusalem. The first day of Pentecost in the New Covenant Church shows us what is possible with God. Peter climbed out of his comfort zone a second time, filled with the overwhelming power of the Holy Spirit. "Then Peter appeared with the elf, raised his voice and spoke to them ..." (Acts 2,14). This was Peter's first sermon - courageously, with all clarity and vigor.
The entire work of the apostles in the New Covenant was made possible by the power of the Holy Spirit. Stephen could not have endured his deadly experience if the Holy Spirit had not been present. Paul was able to overcome all obstacles to proclaim the name of Jesus Christ. His strength came from God.
On our own, we are weak and unable. Filled with the power of the Holy Spirit, we achieve everything that God has in mind for us. It helps us to get out of our "comfort zone" - out of the "boat" - and to trust that the power of God will illuminate, strengthen and guide us.
Thanks to the grace of God and the gift of the Holy Spirit, which you will be given, you can make the decision to move forward and get out of your comfort zone.
by Philipper Gale
---

The Holy Spirit makes it possible