Jesus lives!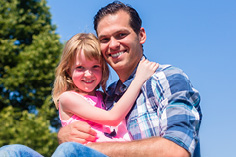 If you could just choose one passage that summarizes your entire Christian life, which one would it be? Perhaps this most quoted verse: "So God loved the world, that he gave his only begotten son, so that all who believe in him are not lost, but have eternal life?" (John 3:16). A good choice! For me, the following verse is the most important thing the Bible has to understand as a whole: «On that day you will recognize that I am in my father and you in me and I in you» (John 14,20).
The night before his death, Jesus not only told his disciples that "the Holy Spirit would be given to them that day," but he also spoke several times about what would happen through his death, resurrection, and ascension. Something so incredible is supposed to happen, something so amazing, something so shocking that it just doesn't seem to be possible. What do these three little sentences teach us?
Do you realize that Jesus is in his father?
Through the Holy Spirit, Jesus lives in an intimate, unique and very special relationship with his father. Jesus lives in his father's lap! "Nobody has ever seen God; the native who is God and in the father's lap has proclaimed it" (John 1,18). A scholar writes: «To be in someone's lap means to be in someone's embrace, to be filled by someone with the most intimate care and loving care». Jesus is right there: "In His Heavenly Father's lap".
Do you realize that you are in Jesus?
"You in me!" Three little breathtaking words. Where is jesus We have just learned that he lives in a real and joyful relationship with his heavenly Father. And now Jesus says that we are in him, just like the vines are in the vine (John 15,1: 8). Do you understand what that means? We are in the same relationship that Jesus has with His Father. We don't watch from outside and try to find out how to become part of this special relationship. We are part of it. What is this all about? How did it all happen? Let's look back a little.
Easter reminds us annually of the death, burial and resurrection of Jesus Christ. But this is not only the story of Jesus, but also your story! It is the story of each one because Jesus was our substitute and substitute. When he died, we all died with him. When he was buried, we were all buried with him. When he rose to a new wonderful life, we all rose to this life (Romans 6,3-14). Why did Jesus die? "For Christ, too, once suffered for sins, the just for the unjust, so that he led you to God, and is killed after the flesh, but made alive according to the Spirit" (1 Peter 3,18).
Unfortunately, many people imagine God as a lonely old man who lives somewhere in heaven and looks at us from a distance. But Jesus shows us exactly the opposite. Because of his great love, Jesus united us with himself and brought us into the presence of the Father through the Holy Spirit. "And when I go to prepare the place for you, I want to come back and take you so that you too are where I am" (John 14,3). Did you notice that it doesn't mention that we have to do or do anything to get into his presence? It's not about following rules and regulations to make sure we're good enough. We are already: "He raised us up with and put us in heaven in Christ Jesus" (Ephesians 2,6). This special, unique and intimate relationship that Jesus has with the Father through the Holy Spirit for all eternity became accessible to everyone. They are now as closely connected to God as they can be and Jesus made this intimate relationship possible.
Do you realize that Jesus is in you?
Your life is worth so much more than you can ever imagine! Not only are you in Jesus, but He is also in you. It has spread within you and lives in you. It is present in your everyday life, in your heart, thoughts and relationships. Jesus takes shape in you (Galatians 4:19). When you go through difficult times, Jesus goes through them in you and with you. He is the strength in you when you are in trouble. He is in the uniqueness, weakness and fragility of each of us and is happy that his strength, joy, patience, forgiveness is expressed in us and it shows through us to other people. Paul said: "For Christ is my life and death is my gain" (Philippians 1,21). This truth also applies to you: He is your life and therefore it is worth giving up for him. Trust that he is who he is in you.
Jesus is in you and you are in him! You are in this atmosphere and there you will find light, life and food that strengthens you. This atmosphere is in you too, without it you could not exist and you would die. We are in Jesus and He is in us. He is our atmosphere, our whole life.
In high priestly prayer, Jesus explains this unity even more precisely. "I sanctify myself for them so that they too can be sanctified in truth. But I pray not only for them, but also for those who will believe in me through their word that they are all one. Like you, father "If you are in me and I am in you, they too should be in us so that the world can believe that you have sent me. And I have given them the glory that you gave me so that they could be one like we are one, I in them and you in me, so that they are completely one and recognize the world that you have sent me and love them as you love me " (John 17,19: 23).
Do you rather recognize readers, your oneness in God and the oneness of God in you? This is your biggest secret and gift. Return your love of God with your gratitude!
by Gordon Green