Decide to smile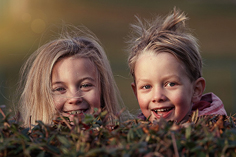 After doing some Christmas shopping at Costco [similar to Manor], I smiled at a middle-aged woman who was just entering when I went to the parking lot. The lady looked at me and asked: "Are the people inside nicer than the people outside?" Hmmm, I thought. "I'm not sure," I said, "but I hope it's me!" December is a hectic month. Preparing for Christmas can bother us and cloud our mood. The celebrations, the decorating of the house, the business letters, the overtime, the standing in line, the traffic jams and the family time can cost a lot of nerves and make us really annoying. Then you want to find the right gift for everyone on the list and realize again, giving a gift can be very expensive.
Whatever you have to do, I think there is something you can give to everyone you meet at this time of the year and it does not even cost you anything. A SMILE! A smile is the perfect gift for all people in all cultures, in all languages, all races and all ages. You can give it to friends, relatives, work colleagues and strangers. It fits everyone and makes a man look younger and more attractive.
A smile is a gift that is very beneficial. It does good to the one who gives the smile and the one who receives it. Research shows that smiling can change moods, it can also reduce stress, boost the immune system, and lower blood pressure; In addition, endorphins, natural painkillers and serotonin can be released into the body.
Smile is contagious - in a positive way. Dr. Daniel Goleman, psychologist and author of the book Social Intelligence, explains that a key to understanding this phenomenon is in the nerve cells called mirror neurons. We all have mirror neurons. Goleman writes that their only job is to "recognize a smile and make us return the smile". Of course, this also applies to a dark face. So we can choose. Would we prefer that people look at us angrily or that they smile at us? Did you know that even a simulated smile can make you feel happier?
We can even learn something from babies. A newborn baby prefers a smiling face over a neutral face. Babies show their relatives a smiling face of joy and happiness. Speaking of babies, what about the baby who embodies this festive season? Jesus came to people to give them a reason to smile. There was no hope before he came. But on the day of his birth there was a big celebration. "And immediately there was the multitude of heavenly hosts with the angel, who praised God and said: Glory to God in the highest and peace on earth with the people of his good pleasure" (Luke 2,8: 14).
Christmas is a celebration of joy and smiles! You can decorate, party, shop, sing, and even spend time with your family, but if you do not smile then you do not really celebrate. Smile! You can definitely do it. It does not hurt at all! It does not cost overtime or money. It is a gift that is gladly passed on and that returns to you. Imagine the idea that when we smile at other people, Jesus also smiles at us.
Suggestions on how to successfully apply our decision
Be the first to smile when you get up in the morning, even when nobody sees you. It determines the melody of the day.
Smile at the people who meet you during the day, whether they smile at you or not. It can determine the melody of your day.
Smile before you use the phone. It determines the melody of your tone.
Smile when listening to Christmas music and think of Christ's birth. It determines the melody of your spiritual life.
Smile before you go to sleep and thank God for the little things that you encountered during the day. It sets the melody for a better night's sleep.
by Barbara Dahlgren
---

Decide to smile