Experience real freedom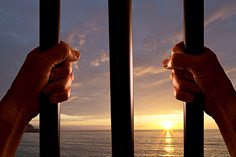 At no time in history has the western world enjoyed such a high standard of living that many people today take for granted. We live in a time when technology is so advanced that we can stay in touch with loved ones around the world, using smartphones. We can always have direct contact with family members or friends via phone, email, WhatsApp, Facebook, or even video calls.
Imagine how you would feel if all of these technical accomplishments were taken away from you and you lived alone in a tiny little cell with no contact with the outside world? This is the case with prisoners who are locked up in prison cells. In the United States, there are so-called Supermax prisons, designed specifically for the most dangerous criminals, who are detained in single cells. They spend 23 hours in the cell and spend an hour outdoors. Even outdoors, these inmates move around in a big cage to breathe fresh air. What would you say if you learned that humanity is in such a prison and there is no way out?
This imprisonment is not in the physical body but in the mind. Our minds have been locked up and denied access to knowledge and relationship with the true Creator God. Despite all our belief systems, customs, traditions and secular knowledge, we remain imprisoned. Maybe the technology has put us even deeper into solitary confinement. We have no way to free ourselves. This detention has left us suffering from great mental loneliness and stress despite our involvement in society. We can only escape from our prison when someone opens the mental locks and liberates our captivity from sin. There is only one person who holds the keys to these castles that block the way to freedom - Jesus Christ.
Only contact with Jesus Christ can pave the way for us to experience and achieve our purpose in life. In the Gospel of Luke we read about the time when Jesus entered a synagogue and announced that he had fulfilled an old prophecy of a coming Messiah (Isaiah 61,1: 2). Jesus proclaimed himself to be the one who was sent to heal the broken, to release the prisoners, to open the eyes of the mentally blind, and to release the oppressed from their oppressors: "The Spirit of the Lord is on me because he has anointed me and sent to preach the gospel to the poor, preach to the prisoners that they should be free and the blind to see and to release the battered to freedom and to preach the year of grace of the Lord » (Luke 4,18: 19). Jesus says of himself: "He is the way, the truth and the life" (John 14,6).
True freedom does not come from wealth, power, status and fame. Liberation comes when our minds are opened to the true purpose of our existence. When this truth is revealed and realized in the depths of our soul, we taste true freedom. "Then Jesus said to the Jews who believed in him: If you will keep my word, you will truly be my disciples and you will know the truth, and the truth will set you free" (John 8,31: 32).
What are we freed from when we taste true freedom? We are freed from the consequences of sin. Sin leads to eternal death. With sin we also bear the burden of guilt. Humanity is looking for different ways to be free from the guilt of sin that empties our hearts. No matter how wealthy and privileged you are, the emptiness in your heart remains. Weekly church attendance, pilgrimages, charity, and charitable help and support may provide temporary relief, but the emptiness remains. It is the blood of Christ spilled on the cross, the death and resurrection of Jesus that frees us from the wages of sin. "In him (Jesus) we have redemption through his blood, the forgiveness of sins, according to the richness of his grace, which he has given us abundantly in all wisdom and prudence » (Ephesians 1,7: 8).
This is the grace that you receive when you accept Jesus Christ as your personal Lord, Savior and Savior. All your sins are forgiven. The burden and emptiness that you have carried away vanishes and you begin a transformed, changed life with a direct and close contact with your Creator and God. Jesus opens the door of your spiritual prison. The door to your lifelong freedom is open. You are freed from your selfish desires that bring you misery and suffering. Many are emotional slaves of selfish desires. When you receive Jesus Christ, there is a transformation in your heart that is about your priority to please God.
"So do not let sin rule in your mortal body, and do not obey his desires. Also, do not give your limbs to sin as weapons of injustice, but give yourself to God as those who were dead and are now alive, and your limbs to God as weapons of justice. Because sin will not rule over you, because you are not under the law, but under grace » (Romans 6,12-14).
We begin to understand what a fulfilling life is when God becomes our center and asks our soul to have Jesus as a friend and constant companion. We receive wisdom and clarity that goes beyond human thinking. We begin to look at things from a divine perspective that is deeply rewarding. A lifestyle begins in which we are no longer slaves of desire, greed, envy, hatred, impurity and addiction that bring unspeakable suffering. There is also a release from burdens, fears, worries, insecurity and deceptions.
Let Jesus unlock the doors of your prison today. He has paid the price for your salvation with his blood. Come and enjoy a renewed life in Jesus. Accept him as your Lord, Savior and Savior and experience true freedom.
by Devaraj Ramoo