You first!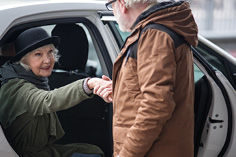 Do you love self-denial? Do you feel comfortable when you have to live in a victim role? Life is much nicer if you can really enjoy it. On television, I often look at interesting stories about people who sacrifice or make themselves available to others. From the safety and comfort of my own living room, this can be easily observed and experienced.
What does Jesus have to say about that?
Jesus calls the whole people and his disciples to himself and said: "If someone wants to be my disciple, he must deny himself, take his cross and follow me" (Mark 8,34 New Geneva translation).
Jesus begins to explain to his disciples that he will suffer a lot, be rejected and killed. Peter gets upset about what Jesus says and Jesus reproaches him for it and says that Peter does not pay attention to the things of God, but to people. In this context, Christ explains that self-denial is a "thing of God" and a Christian virtue (Mark 8,31-33).
What does Jesus say? Should Christians not enjoy themselves? No, that's not the idea. What does it mean to deny oneself? Life is not just about you and what you want, but about putting others' interests before their own. Your children first, your husband first, your wife first, your parents first, your neighbor first, your enemy first, and so on.
Taking the cross and denying oneself is reflected in the greatest love bid in 1. Corinthians 13. How could it be? The person who denies himself is patient and kind; she or he is never jealous or boastful, never puffed with pride. This person is not rude and does not insist on their own rights or ways because Christ's followers are not selfish. He or she is not angry and does not pay attention to injustice suffered. If you deny yourself, you are not pleased with injustice, but with right and truth. He or she, whose life history includes self-denial, is ready to endure anything, come what may, is willing to believe the best of every person, hopes in all circumstances and endures everything. The love of Jesus in such a person never fails.
by James Henderson
---

You first!