Warm relationships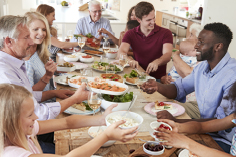 It is a pleasure to enjoy a happy and carefree time in a cordial relationship. Sit together, enjoy a delicious meal and at the same time maintain friendly ties during conversations. The illustrious band in the picture on the front inspires me a lot. With their laughter children and grandchildren cheer up the company of older people and together they spend cozy and exciting hours.
You have already wanted to experience such an inspiring event? Maybe you wanted to know something more about the past times or a visitor who is close to your heart and wanted to deepen their relationship with him or her.
I share with you the well-known story of Zacchaeus. He was a wealthy man, chief tax collector in Jericho, and a little grown up. So he climbed a mulberry tree to see Jesus pass by. He did not want people blocking his view of Jesus.
As Jesus passed by the tree, he looked up and cried, "Zachaus, come down quickly! I have to be in your house today. "As fast as he could, Zaccheus came down from the tree and joyfully took Jesus with him. Many people were outraged when they saw this. "How can he be invited by such a sinner!"
But Zacchaeus went before the Lord and said: "Lord, I will give half of my property to the poor and if I have blackmailed someone, I will give him back four times as much." Then Jesus said: "Today has saved this house because this man is also a son of Abraham" (From Luke 19, 1-9).
It is up to us to open our hearts to grow in cordial relationship, be it to Jesus, to one's neighbor or to ourselves. The question is: am I a loving, generous host or an attentive and grateful guest? In any case, I am required to maintain a cordial relationship. And my attitude shows exactly if I let myself be guided by love. Love is not just a fleeting feeling, but the defining characteristic of God and his children. It is therefore in your nature as Jesus Christ's brother or sister, when in your relationship once again something goes wrong, to descend from the tree and to clean up your charged relationship. It distinguishes you as a unique guest, accepting the love that characterizes the host, to give the guest his love and attention.
For the next meeting with friends or relatives, I wish you a lot of fun and cozy exciting hours!
Toni Püntener